RAFAEL NADAL HONORED WITH INTERNATIONAL PRIZE FOR SPORT OF THE COMMUNITY OF MADRID (SPAIN)
Rafael Nadal won the award from the International Community of Madrid. The award highlights not only the relevance and merit of sports, but also human values and transmitting outside the tennis court.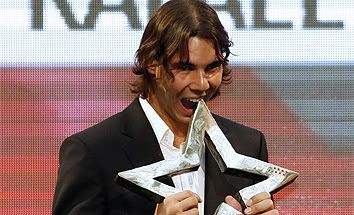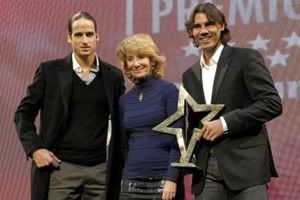 2nd of December
Source: www.rafaelnadal.com

The chairwoman of the Community of Madrid, Esperanza Aguirre, presented Rafa Nadal today with the 'International Prize of Sports of the Community of Madrid.
The ceremony took place at the Real Casa de Correos at 12:30 (local Madrid time).
The award aims to recognize the merits and values of individuals or institutions of international importance in the field of sport, based on their influence in the community and their human values.
"To be receiving this award in the first edition of its ceremony is very important. Especially in a community like Madrid's that I feel so close to me and where I have been able to achieve a lot of success at the Madrid Masters and the Davis Cup" said the Spanish star after receiving the honors.
The award is a commemorative sculpture and a certificate signed by the president of the Community of Madrid, Esperanza Aguirre.
Esperanza was also quick to highlight that "Rafa is an example to follow for all young people because he is full of values, specially as a sportsman. Nadal has shown that he knows how to win and how to lose. He has shown how to achieve success without becoming arrogant, and has specially stood out for knowing how to lose giving the deserved credit to his opponents".
.......................................................


.......................................................
Uploaded by PresidenciaComMadrid
The President of the Community of Madrid, Esperanza Aguirre, delivers the first International Prize for Sport of the Community of Madrid, which has been given to tennis player Rafael Nadal, both in their professional merit as demonstrated by sporting values.

.......................................................

.......................................................
Rafael Nadal wins the International Prize for Sport

Uploaded by merikob

The article below was translated from French by Bluemama ~ Mathilde at The Forum at www.rafaelnadal.com



Toni, the other Nadal


Tennis - ATP

In the Nadal's family, Toni is a discrete sportsman. He was not a spanish quintuple champion like his cousin, the footballer Miguel Angel, and was only a table tennis champion of the Balearic Islands. He is "just" the tennis world N.1 coach, his nephew Rafael.

Exclusive interview, 1st part.

Toni, the public knows well Rafael well, but knows almost nothing about you. So, tell us about you!
TONI NADAL: " You want me to speak about myself? "

If you should define yourself in a few words ?
T.N. : It's difficult. I know myself, but I do not know how I am seen by the others. For me, I am a normal person.

Tell us about your way until now, professional and personnal
T.N. : In Spain, I played tennis, but I was not very good : a 2nd category player. I've made studies (of Law and History). When i was studying in Barcelona, I was playing tennis at the same time. Once my studies finished , I returned to Mallorca, and I started to be a trainer in a club. That was about 1984, 1985. I worked there a few years, and when Rafa was 10 years old, i stopped with the club. With Rafael's father, I was managing two stores, so i didn't need to work . That allowed me to do everything with Rafa, to go with him on the circuit.

Why did you involved in tennis, and not in football ?
T.N. : Formerly, i was quite a good sportsman. I played a lot football, table tennis (i've been the Balearic Islands champion), i was swimming, then i saw some tennis on television and i wanted to try it. But i started late, at 14 years old, so it was not easy"

To be Rafa's coach, is this a way to go on with your high level career, or at least to keep a foot in the world of competition?
T.N. : I believe that I am a better trainer than player (laughter). I prefer that. And, to tell you the truth, I do all the opposite of what I did when i was a sportsman : for example, if the way i was working was not goog, well now, at least, I know that i should use another method , so I do exactly the opposite ! (smiling) I believe that it is necessary to be logical, and to wonder : what do i need to be good? I see many trainers who want to repeat with their players what they did with themselves.

What is, for you, the definition of a good coach?
T.N. : I do not know if what i've done until now is conform to what must be done to be a good coach, but i've always tried to do things in the most simple way. Without considering that the problem comes from the racket, neither the balls, the short, or anything else. For me, a good coach must have a good personality. What I want is that the player always respects his coach. Without that, it's impossible to work good. Then, what is important? To know the game and to know the players. There are many ways to do the game, to lead the practising session. Then, I believe that a good coach is the one who manages to transmit his motivation to his player. The best is when you share the same way or thinking, when you have a common project. If everyone has the same goal, everyone does what he has to do, whitout questions.

Do you have other passions than tennis ? What do you like to do when you have free time ?
T.N. : For example, when i'm here in Paris, i like to visit the city. (The interview took place during Paris-Bercy Masters Series). I like much the "Quartier Latin". I go there almost everyday. To tell you the truth, I almost always walk to come from the hotel. During Roland-Garros, I almost walk everyday from the hotel to the stadium. One day i walk on a way, I discover a place, the following day, another. As I told you, I like the Latin Quarter. I also love Notre-Dame. Each time I come to Paris, during Roland-Garros, I go maybe two, three times to the Sacré Coeur. There's a beautiful sightseeing there, and i like the "Place du Tertre" with its painters. I like to play chess too! "
INTERVIEW: TONI NADAL - SECOND PART

You know Rafael since his little childhood. Is your relationship with him not fusional, being together all this time ?
T.N. : We've spent much time together, on the tennis courts, since he is 3 years old. That makes almost 20 years!
What does this relationship bring to you?
T.N. : An incredible thing for me : to be in Roland Garros, or Wimbledon, in a place that I would never have imagined to be. I see the match, on the Center Court : what is this supposed to bring me more than that? I am here for him. I was very happy at home, i still am (smiling). But with him, i could do incredible things

And on a human point of view?
T.N. : I believe that I bring him more than he brings to me. But it is normal, because I am the uncle, and unfortunately, I am older than him (smiling). So it's completely normal that I bring him more. I had already ideas before knowing him, i try to make him take benefits ot if.
Does he still surprise you?
T.N. : Everyone surprises me. When you want to be one of the best players, or one of the best lawyers, one of best (not the best, it's too hard) in your field. Many people often surprise me. When I see Djokovic, or Simon the other day (in Madrid's semi-final),when I see Gasquet hitting his backhand ... etc ... But I know that they are special players. They can do that.
Could you coach another player than Rafael? Would you be as much involved with another player as with him ?
T.N. : Today, it is difficult to think that. For me, there is an essential thing: as a coach, I must be at the same height as the player, or perhaps a little higher. If not, there wouldn't be enough respect for each other. Today, it is difficult for a coach. When you need money, then you get money from the player. Some players think that when they pay you, they have the right to say anything to you. I am not in this situation. But what I would like more is to work with young people, not with already high level players.
The players who are here have already the highest level, they are professional. A coach cannot bring them that much. I've always tried to teach Rafael things in tennis, but not only: i also wanted to teach him useful things for life. I tried to make Rafael being himself on the court and in life. I think that if you look at Rafa, he is a correct person, on the life and on the court.
Your fair play and your nephew's are exemplary ?
T.N. : I don't know. But I think that we have a correct behavior. That's what we need. In life, victory is important, of course, but it's not the essential.
Is there a "sacred" respect between Rafael and you?
T.N. : There is a "normal" respect. I am the coach. I am not the one which carries the racket to the man who changes the strings. Once, yes, I can go, but not 15 times. At home, i have a housemaid. She does her job, but she doesn't do some foot massages to me ! You understand ? I pay her, but i have the maximal respect for this woman. Each day, I tell her "thank you very much". This is not because i'm am socially "above" her, that I can do what I want. It's the same thing in tennis. You can often see behaviors on the court, ... pfff (sigh), which for me would be simply unacceptable. It would be unthinkable, impossible that Rafael speaks badly to me.
It's difficult to be more exposed than Rafa and you are, and yet, you remain very humble
T.N. : Yes Because the life is simple! Today, Rafael is world N.1. The four last years, it was N.2, he was well-known, known here, in Spain etc ... But this is a special life : to play the Roland-Garros final, to go to Dubai, to go to Wimbledon. All that is special. What is really important in life is the same thing, for you, for him, for everyone : health, family, etc ... Anybody would exchange immediatly his ranking to everything being well !
I think that people like Rafael, who had the luck to do what he wants, to succeed, must be grateful to life for that. You cannot give the bad example. What we all want is to live a little better. Not in the material meaning, just being happier in our relationships with the others. It is very important to say that to the players, so that they become aware of it.
Source
2nd of December
Rafa Nadal is not only the Worlds best tennis player, hes also the No.1 most admired and popular person in his home country.
Lots of people, from kids, to teenagers and grandparents adore him and see in him a great example for everyone to follow. Hes a person full of charisma, someone who has build a career full of fame, fortune and great success, based on respect, consistency and values.
From the moment Rafa became the best tennis player in the world back in August. You would have thought that the kid from Mallorca would have let the hype that surrounds him on a daily basis, get to him and perhaps, to a certain extent, make him a less friendly person.
Well, it makes us happy to say that is absolutely not the case. That is not Rafa at all. He continues to be the same person that he was back before he even picked up a raquet for the first time. Someone humble, extremely polite and appreciative of everything and everyone that wants to meet him.
That may be the reason way hes been chosen as Spains most loved and appreciated person based on a poll carried out nationally and that was was completed by 20 thousand people.
Apart from Rafa, there were other public figures that appeared in the top 10 of the most loved and valued people such as Pau Gasol and Iker Casillas. The last one has appeared 6 consecutive times in the poll...
Source


Memorable Nadal moments in 2008 - No. 4: Chennai

12/2/08 6:25 PM | Ricky Dimon
Throughout the off-season, TennisTalk will recap Rafael Nadal's and Roger Federer's most memorable moments in 2008. Part 2 for Nadal features his season-opening week in Chennai, India.

It's probably not memorable for fans who exclusively follow Grand Slam events, but what a wild start to Nadal's season! His first tournament of the year in Chennai produced one incredible win and one devastating loss.

After cruising through the first three rounds with easy straight-set wins over Mathieu Montcourt, Rajeev Ram, and Guillermo Garcia-Lopez, Nadal met fellow Spaniard and good friend Carlos Moya in the semifinals. The result was an instant classic.

It took a ridiculous three hours and 55 minutes to complete. Oh yeah, let's take this time to remind everyone it was best two out of three, not three out of five, and yes, it still took that long. When it was all said and done, Nadal emerged with a grueling 6-7(3), 7-6(8), 7-6(1) victory. The tournament's No. 1 seed had to save four match points in the second set just to forced a decisive third, during which he had to come back from a break down.

"It was an unbelievable match. You don't play games like these every day," said Nadal. "It is always an emotional time when I play against Moya. We both played a good game and I am sure the Chennai crowd loved it."

Nadal, however, did not love the impact it had on him the next day. With no day of rest in between the semis and final, Nadal suffered perhaps his biggest beat-down ever, delivered by Russian Mikhail Youzhny. The 6-0, 6-1 drubbing lasted less than one hour; 57 minutes to be exact.

"This victory is a present from Rafa to me," admitted a humble Youzhny. "I didn't win today, Rafa just lost the match because he couldn't move well."

Needless to say, the rest of Nadal's 2008 campaign was far more straightforward than the crazy developments in Chennai.
Labels: Award, Charity, ilovemylife, INTERNATIONAL PRIZE FOR SPORT OF THE COMMNITY OF MADRID, Interview, Madrid, Rafael Nadal, Sandra Hammel, Spain, Tennis, Uncle Tony Nadal