TENNIS INTO THE NIGHT FOR RAFA
Round 3

Rafael Nadal defeated Nicolas Almagro Sunday, September 6, 2009

7-5, 6-4, 6-4





Rafa plays Gael Monfils next


Round 4


September 8, Tuesday night


Rafael Nadal

and

Gael Monfils

are scheduled to play on Arthur Ashe Court after

Serena Williams

and

Flavia Pennetta

The women are scheduled to start not earlier than 7:00 p.m.


The afternoon matches on Arthur Ashe are



This week in the USA the matches can be watched on the U.S. Open website. Click this post's title to go to the website. You can watch two matches at once with the

picture in a picture

feature. The website is fabuous. Also, ESPN2 will be airing matches that they feel merit their coverage. On my sidebar is a button I grabbed at the U.S. Open website. You can get the live scores of all the matches. Check it out.

Rafa will be playing the last match of the night Tuesday, September 8, which probably means he will be playing late into the night. The scary thing is his muscle that is in his abdominal area. We thought the knees were the worry. Oh, dear. Didn't his trainer have him doing free weights on his back on his off months?! That would have strengthened the abdominal muscles while he was off the knees.

Here is hoping he can keep playing good enough to get through to the Quarter Finals.

Rafael Nadal of Spain returns a shot against Nicolas Almagro of Spain during day seven of the 2009 U.S. Open at the USTA Billie Jean King National Tennis Center on September 6, 2009 in the Flushing neighborhood of the Queens borough of New York City.

Photo credit: Julian Finney/Getty Images North America

Photo credit: Julian Finney/Getty Images North America


Photo credit: Jim McIsaac/ Getty Images


Photo credit: Jim McIsaac/ Getty Images


Photo credit: Juilan Finney/ Getty Images

Photo credit: Juilan Finney/ Getty Images
Photo credit: Juilan Finney/ Getty Images

Photo credit: Nick Laham/ Getty Images



Photo credit: Nick Laham/ Getty Images


Photo credit: Nick Laham/ Getty Images

Though we don't have sleeveless, love those shirt changes....


Photo credit: Jim McIsaac/ Getty Images


I remember seeing this. Rafa was taking off his shirt to change it to a fresh one.
We don't get the pleasure of seeing these shirt changes normally because networks cut to commercial at these times. But, CBS came back after commercial and shared the clip with us. (These shirt changes are always shown when U.S. Open website is streaming the matches. And also when you pay to see the matches of other tournaments at http://www.tennistv.com/page/Home/0,,11444,00.html)


...Rafa heard the crowd erupting in a cheer and looked up.
Then he realized the crowd was cheering his shirt being off.

The CBS commentators said the loudest cheer was when Rafa changed his shirt.
It happens at 34 seconds into the video.
Take a look (it's in Spanish, but you'll get the idea):
www.youtube.com

Here is the after match, on-court interview, Rafa is asked what he thought about the fan reaction when he took his shirt off (it is at the 1:40 mark):
www.youtube.com
"Thank you... I am a little bit shy."
Rafa



78

Pictures of Rafa in the Round 3 match with Nicolas Almagro:


Rafael+Nadal
78!

Those photographers know who to take pictures of - don't they?
Click on my post's title and it will take you to the wonderful U.S. Open website.

Interactive Draw with many wonderful informative links (Find tab

Draws

, which is second at the top, then go to
Interactive Draws
:
www.usopen.org/en_US/tracker


Other live streams may possibly be found at


TV Schedule
http://www.usopen.org/en_US/about/tv_us.html

Websites that always have great articles and pictures:
Fan sponsored website:
vamosbrigade.com

The original forum for Rafa's website (before Nike took it over)
www.babolat.com
Rafa's Blog and answers fans' questions
imesonline.typepad.com/rafael_nadal
email your questions to Rafa:

rafa@timesonline.co.uk
America's sweetheart Oudin reaches quarterfinals
Melanie Oudin's Cinderella story continues at the 2009 US Open. The 17-year-old Georgia native's incredible run is still going strong, as Oudin advanced to her first Grand Slam quarterfinal with a 1-6, 7-6(2), 6-3 come-from-behind win over No. 13 seed Nadia Petrova.
On her third match point, Oudin hit a screaming forehand crosscourt winner that landed out of Petrova's reach. The second the ball hit the open court, she raised her arms and dropped her racket, with the entire crowd in Arthur Ashe Stadium on its feet and erupting in celebration. But the cheers were not only limited to the main show court.
Fans all across the grounds who were listening to their portable American Express radios began cheering for Oudin when they heard she had won match point. Even the crowd in Louis Armstrong Stadium broke out in celebration midway through the match between Petra Kvitova and Yanina Wickmayer.
After taking down three straight Russian opponents, Oudin's next opponent will be the winner between Caroline Wozniacki and another Russian, Svetlana Kuznetsova.
"Now I know that I do belong here," Oudin said of her continued success. "I can compete with these girls no matter who I'm playing. I have a chance against anyone.
"Coming into the tournament, I did believe that I could compete with these girls, but it was just figuring out a way to win in these tough matches and these pressure situations actually coming through and winning. So now, even if I get a set down, I still believe in myself and my game. I know that if I fight as hard as I can, do the best I can, hopefully I can do it."
Petrova dominated through the beginning stages of the match, using her power baseline game to stun the young American. An opening service break was the only time Petrova dropped a game in the first set. But it wasn't until the second set that her game started to fall apart, and she just could not keep the ball in play.
Petrova hit a staggering 59 unforced errors on the match, 25 of which came in the second set, and another 22 in the third. Oudin took a 3-1 lead in the second before Petrova broke back and held for 3-3. Two more breaks of serve were traded before a tiebreaker would decide the set.
Oudin took a quick 5-0 lead in the breaker, capitalizing on the Russian's errors. A Petrova forehand that sailed wide gave the American the set.
Petrova said the toughest challenge Oudin posed was her movement and ability to run down every shot no matter what Petrova did.
"It's really difficult, because I felt like I had to come up with a good shot, and I was taking my chances," Petrova said. "I was trying to put pressure on her by going to the net. But I was playing more high‑risk tennis than she did. But, I mean, I'm giving her big credit by running all over the court, getting all those shots back."
In her two previous matches against Sharapova and Dementieva, Oudin has done well coming back to win after losing the first set. But being in a pressure situation and staying strong mentally is something she handles well.
"I've been in that situation many times of losing the first set and being able to come back and win," Oudin said. "I do well with forgetting about the first set and starting over like it's a totally new match. I start off really well in every third set I played because I believe in myself so much after I win a second. I have the momentum going, and I know I can win. That's what I think out there, and when I do that, I start playing better and better."
After Oudin had a 40-0 lead in the opening game of the third set on Petrova's serve, Petrova fought back, fending off six game points before Oudin hit a winning lob that caught the back line. From then on, it all went in Oudin's direction. Petrova continued to struggle with her service game, double faulting to give Oudin a 3-2 lead that she would run away with.
Petrova served to stay in the match at 5-3, saving two match points. But on Oudin's third match point, she fired a solid crosscourt forehand, a shot that she relied on to win so many rallies in the match, and closed it out.
Oudin has had a phenomenal season in 2009. At this time last year, she was ranked No. 221 and needed a wild card just to get into the main draw at the US Open, where she lost in the first round. This year, her place in the quarterfinals ensures that she will break the top 45.
As fans have watched her advance round after round here in Flushing Meadows, they are starting to believe there is a lot of promise in the future for American women's tennis, beyond Venus and Serena Williams. So the question still remains. How far can she go at the US Open? One thing is for sure, no one has more heart and belief than Oudin. And the possibilities for her are endless.
Melanie Oudin into the Quarter Finals
Uploaded by
kingtanto
~~~~~~~~~~~~~~~~~~~~~~~~~~~~~~~~~~~
Sudan awards outgoing UNAMID'S chief Nilein Order
www.sudantribune.com
~~~~~~~~~~~~~~~~~~~~~~~~~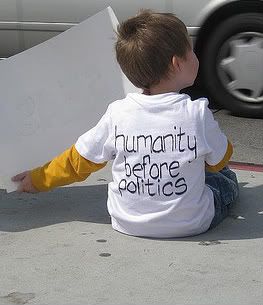 G
ENOCIDE WILL STOP WITH US
Letter - All Is Not Well in Darfur - NYTimes.com
Comments to President Obama:
202-456-1111 or 1-800-GENOCIDE
Contact President Obama
www.whitehouse.gov/contact
My letter sent via http://www.whitehouse.gov/contact/

Dear President Obama,
The audacity of hope has turned into the audacity of indifference.
Please do what needs to be done to restore humanitarian aid to Darfur and do it immediately.
Darfuris are dying while you issue embarrassingly mild statements which suggest appeasement and "more of the same" instead of the honest and courageous leadership we voted for. President Clinton did nothing for Rwanda and now you are doing nothing for Darfur.
Now as the U.S. assumes the presidency of the Security Council during the month of September, please Mr. President, be the leader who leads on this defining issue.
I was one who believed you were part of the change we could believe in. Now, I am not so sure. Silence in this case, kills, President Obama. Silence is irresponsible.
Sandra Hammel
Community Volunteer Leader
Use Your Voice to Save Darfur Rhode Island
"The Most Important Office is That of Private Citizen"
Louis D. Brandeis
Dear President Obama - A letter sent March 12, 2009
Join the Fast for Darfuris
"Never doubt that a small group of thoughtful,
committed people could change the world.
Indeed, it's the only thing that ever has."
Margaret Mead


Websites to learn about Darfur:
By a Darfuri living in the United States of America:
while we wait sudan
The basics about Darfur:
savedarfur.org/pages/primer
www.savedarfur.org
www.stopgenocidenow.org
No More Empty Promises
Labels: Almagro, Boo for CBS, CHANGE WE CAN BELIEVE IN, Darfur, Genocide, ilovemylife, Monfils, New York, Number 1 Biceps, Obama, Pictures of Rafa, Pirate Pants, Rafael Nadal, Sandra Hammel, Tennis, U.S. Open