NOT ALL IS EQUAL WHEN GOING SLEEVELESS - WHY COVER UP THE NUMBER 1 BICEPS? BRING BACK RAFA'S SIGNATURE LOOK
Round 2


Friday night, September 4, 2009
Rafael Nadal defeated Nicolas Kiefer

6-0,

3-6,

6-3

,

6-4





Round 3


Next Rafa plays Sunday, September 6, 2009
His opponent will be Spaniard Nicolas Almagro
The match won't begin before 12:30 p.m. on Arthur Ashe Court
In the USA, it is supposedly going to be televised on CBS. I say "supposedly" because Friday night CBS cut away to other matches, so thankfully it was live streamed on www.usopen.org

But this weekend whenever CBS is airing the U.S. Open there is no live streaming. But Saturday night, when CBS DID NOT air ANY tennis matches, then there was the wonderful live stream available.

Click on my post's title and it will take you to the wonderful U.S. Open website.

Interactive Draw with many wonderful informative links (Find tab

Draws

, which is second at the top, then go to
Interactive Draws
:
www.usopen.org/en_US/tracker


Other live streams may possibly be found at


TV Schedule
http://www.usopen.org/en_US/about/tv_us.html
11 pictures of Rafael Nadal in Round 2 match

Websites that always have great articles and pictures:
Fan sponsored website:
vamosbrigade.com

The original forum for Rafa's website (before Nike took it over)
www.babolat.com
Picture this without the sleeves

Rafael Nadal of Spain returns a shot against Nicolas Kiefer of Germany during day five of the 2009 U.S. Open
at the USTA Billie Jean King National Tennis Center
on September 4, 2009
in the Flushing neighborhood of the Queens borough of New York City.
Photo credit: Nick Laham/Getty Images
ABOUT THE SLEEVES
and other Rafa signature bits


I look at Rafa ready to receive his opponent's serve. He is bent over at a 90 degree angle as always, but he doesn't look like Rafa. The hair, the sleeves, the shorts. It is difficult to make Rafa look boring, but NIKE has succeeded. From a distance, he looks like every other player now. Not the signature look we fans adore.

Any tennis player can wear sleeves, but not all is equal when going sleeveless. Rafa has the number 1 arms. And the tush definition isn't the same with the cut of the shorts we must endure since the 3/4 length of pants have gone by way of the dinosaur.



One OUTstanding question and answer:


I heard that you may possibly be returning to your signature 'sleeveless' kit sometime next year? Can you please confirm that this is true? Trish
RN (Rafael Nadal): I had a good time in Montreal playing the first round with it. Felt great. We leave this open. maybe yes, maybe no...
Source: timesonline.typepad

At

http://vamosbrigade.com/

under
Droolers Anonymous
, you can find
Rafa's Clothing Updates - Official Mourner's Thread


At

least

, we still have this

THUMBS DOWN FOR CBS

What are they thinking?! Some boring TV shows are on while the U.S. Open night matches are being played Saturday, September 5. Thumbs down for CBS.
......................................
......................................
Rafa before Round 2 match and after the win
Uploaded by luneworld

......................................
......................................
Rafa's press interview after Round 2 match
Uploaded by USOPEN
Melanie Oudin wins over Sharapova
3-6, 6-4, 7-5 in a third round match on Saturday of the 2009 US Open.
Oudin evaporates Maria

Source:

www.usopen.org

Saturday, September 5, 2009
By Matt Cronin

The last player to knock off Elena Dementieva and Maria Sharapova in consecutive matches this summer was seven-time Grand Slam champion Venus Williams.
Look out world, here comes Melanie Oudin, who on Saturday followed up her huge upset of Dementieva with an even more impressive knockout of 2006 US Open champion Sharapova, 3-6, 6-4, 7-5, in the third round.
The 5-foot-6 sparkplug from Georgia overcame her own nerves in the first set and one of the greatest fighters the sport has ever seen by controlling play from the baseline, mixing up her serves in the second set and attacking Sharapova's serve whenever she got a chance, which wasn't often, as the Russian served what is believed to be a record in a US Open women's match -- 21 double faults.
"She's seen herself on that court for a lot of years," said Oudin's mother, Lesley. "She held the electricity of the crowd, and that brings all elements together."
A number of teens might have cracked under the circumstances, but not Oudin, who didn't get discouraged, despite the fact that Sharapova fought back from break down in the third set to even it at 5-5. But the Russian -- whose surgically repaired shoulder was treated in the third set -- couldn't get her toss right, or her newly abbreviated motion to work correctly, and double faulted to hand Oudin the break to 6-5.
"Just couldn't decelerate today," Sharapova said. "I was hitting second serves no less than 95 miles per hour. I even tried to hit it less, and I just couldn't. It's frustrating because you work so hard to get to a certain point. You always want to get better. I feel like I've had a good enough summer. I probably could have definitely performed better. But it's just not the way things go sometimes."
U.S. Fed Cup heroine Oudin then stood up strong, winning the match with a bullet serve and a crosscourt forehand winner.
"She said this morning she could do it, and that's what it takes," Lesley Oudin said. "A lot of people can hit the ball, but it's so mental. Melanie thrives under pressure."
Whether Oudin can maintain her energy won't be known until she takes the courts in the second week. Her weaponry is now obvious: a forehand that she loves to leap into and can hit any which way for a winner; terrific anticipation and binding foot speed; and a high-variety backhand that keeps even a huge accomplished hitter like Sharapova at bay.
"Going into the match today, I knew that Maria was going to be really powerful, and I knew that she was going to be hitting the corners," Oudin said. " I knew she has a really good serve. So I was going to just try to move as well as I could and play good defense, try to get her moving before I was the one moving, and try to control the points."
Oudin will face No. 13 seed Nadia Petrova in the next round, whom she has never faced before. But after beating two Russians who are more accomplished than Petrova is, there is little reason to doubt that she can win that match and even take out the likes of Roland Garros champion Svetlana Kuznetsova in the quarterfinals, should she face her.
"She has a great amount of potential, considering at her age, to get to the fourth round of the US Open, and to beat Elena and come out and play three sets against me and come out with a win and still have an opportunity to go further in the tournament," Sharapova said. "Considering she's really young, I certainly think she has a great future ahead of her."
Lesley Oudin isn't surprised at her daughter's success but didn't expect it to come this early, saying that she thought that Melanie wouldn't begin to threaten the top players until 2010 or 2011.
"All this has come so quickly," Lesley Oudin said. "I told her, 'You've gone from 70-80 [rankings] range we usually play, to playing the top 10.' We've done this in small steps, and I missed that whole stage!"
While Melanie says that her ability to face down top players is a little surprising, she's not totally shocked, as she's been working toward the goal her whole life.
"I'm playing how I've been wanting to play, how I knew I could play," she said. "I just haven't been able to do it continually for an entire match. These past matches here, I've been able to keep it up the entire time… I still think I can improve even from today. So hopefully I can just get better."
~~~~~~~~~~~~~~~~~~~~~~~~~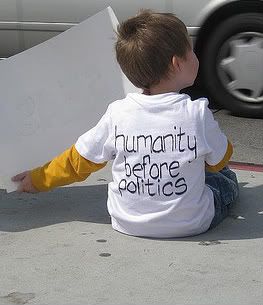 G
ENOCIDE WILL STOP WITH US
Letter - All Is Not Well in Darfur - NYTimes.com
Comments to President Obama:
202-456-1111 or 1-800-GENOCIDE
No More Empty Promises
"The Most Important Office is That of Private Citizen"
Louis D. Brandeis
Dear President Obama - A letter sent March 12, 2009
Join the Fast for Darfuris
"Never doubt that a small group of thoughtful,
committed people could change the world.
Indeed, it's the only thing that ever has."
Margaret Mead


Websites to learn about Darfur:
By a Darfuri living in the United States of America:
while we wait sudan
The basics about Darfur:
savedarfur.org/pages/primer
www.savedarfur.org
www.stopgenocidenow.org
No More Empty Promises
Labels: Almagro, Boo for CBS, Flushing Meadow, ilovemylife, Kiefer, New York, Number 1 Biceps, Pictures of Rafa, Pirate Pants, Rafael Nadal, Sandra Hammel, Sleeveless Treat, Tennis, U.S. Open