RAFAEL NADAL MEETS GAEL MONFILS IN ROTTERDAM'S SEMI FINALS FEB 14, 2009
ABN AMRO Rotterdam Tennis ATP World Tour Tournament

Schedule for Saturday, February 14, 2009
Times listed are Rotterdam time
at http://www.tennistv.com/page/TournamentsIndex/0,,11444,00.html
Not Before 14:00 Mario Ancic vs. Andy Murray
Not Before 19:30 Rafael Nadal vs. Gael Monfils
(that is 1:30 p.m. USA EST)

Below are some

free live streams

that I have found - it seems that is what you come here for - Good Luck!

http://www.atdhe.net/live-tv-3290.html

http://londonerr.ning.com/

http://www.channelsurfing.net/watch-wabuk-3.html

http://www.justin.tv/vipsports3

Highlights of the Quarter Final - Rafael Nadal vs. Jo-Wilfried Tsonga at this link www.tennistv.com
Nadal Survives Tsonga Barrage

All pictures above are Rafa from the Quarter Final February 13, 2009 with Jo-Wilfried Tsonga.
Photo credits are unsure, but I am guessing they are taken by one of the Getty photographers. So far, it has been Hamish Blair of Getty Images.


Photo credit: DPPI Willem Vernes
...............................................

...............................................
Slideshow of the quarter final match
Rafa vs Jo-Wilfried Tsonga February 13, 2009
The slideshow was made at Photobucket
Photo credits:
I'll go out on a limb and guess Getty Images,
since I don't really know.
So far that is what I have found to be the case,
where I have seen credits being posted.
The paws on a picture are placed there by Ines-Ganda from Rafa's forum.
Battling Nadal edges Tsonga in Rotterdam
February 13, 2009

(CNN) -- World number one Rafael Nadal again showed his amazing battling qualities as he held off Frenchman Jo-Wilfried Tsonga in three tough sets to reach the semifinals of the Rotterdam men's Open.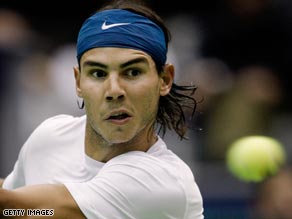 The top-seeded Spaniard had been taken to three sets in both of his previous matches this week, and Friday proved no different as he beat seventh seed Tsonga 6-4 6-7 6-4.
The Australian Open champion had chances in the second set to wrap up a quick victory, but could not convert as Tsonga won six successive points in the tie-break to take the match to a third set.
Meanwhile, second seed Andy Murray is also through to the last four after his French opponent Marc Gicquel was forced to pull out of their quarterfinal clash with a hamstring injury.
Despite the injury, Gicquel still managed to take the second set off the Briton before eventually retiring with the scoreline at 7-6 4-6 3-0.
Murray will next meet Croatia's Mario Ancic, who put out 2007 champion Mikhail Youzhny 6-4 6-2. Ancic, ranked 28th, has lifted two of his three career titles in the Netherlands and was a Rotterdam semifinalist four years ago against former world No.1 Roger Federer.



Rafa Beats Tsonga for Semifinal Showdown Tomorrow (February 14, 2009)
from www.rafaelnadal.com

13th of February, 2009

What a match!!! For the third time in a row Rafa Nadal was pushed to the limit by another great player, this time around it was French sensation, Jo-Wilfred Tsonga before prevailing in three long sets, 6-4 y 6-7 (5) y 6-4 at the World Indoor Tournament in Rotterdam.
As all of you already know, Rafa said before the start of the tournament that "Last year I played real bad at Rotterdam, it was my worst tournament during the season and that is why I want to play better here, I just want to give back to the Dutch fans and show them my game and dedication".
After only 2 weeks of that memorable final in Melboure, Rafa is again in the finals of another very important tournament, however, this one is played on a different surface, Indoor hardcourts.
"Tsonga is a very difficult rival, and to me, winning is already a great achievement. Today's match has been very challenging and I've just taken advantage of the chance that I was given at the right moment" , said Rafa after finishing the match.
The next oponent he will face for a place in the final will be the winner of the match between Julien Benneteau and Gael Monfils.
Well done Rafa and good look in the semi-finals tomorrow! The End

Storyline(s): The big one for me is the rise of Bulgarian teenager Grigor Dimitrov, who upset Tomas Berdych in the first round and took Nadal to three in the second. The kid came in to the tournament as a wild card and ranked 478 in the world, but comes out being touted as "better than Federer" by his coach, Peter Lundgren, and as a future top ten player, "for sure" by Rafael Nadal. Speaking of Rafa, he's been (understandably) struggling by his standards this week, having been stretched to a third set in both his matches. Like their WTA counterparts in Paris, the French guys are also representing well this week, with Tsonga, Monfils, Gicquel and Benneteau all making it into the quarters.
Still in it to win it*: All those French guys plus Youzhny, Ancic and top seeds Murray and Nadal.
Hot matches: Oh, there are many! Just in the quarters we have Nadal vs. Tsonga in a replay of Aussie Open 2008. Monfils could play the winner of that match in the semis (if Gael get's past Benneteau) and Murray (if he gets past Gicquel) will play either Youznhy or Ancic. And who wouldn't want a Nadal vs. Murray final? The above text from What's On Tennis: ABN AMRO Rotterdam, SAP Open, Brasil Open



Thrice As Nice


Rafael Nadal was pushed to three sets for the third straight match Friday in Rotterdam. But the Spaniard prevailed once again, beating Jo-Wilfried Tsonga, 6-4, 6-7 (5), 6-4, in the quarterfinals.
Source: www.tennis.com


Jo-Wilfried Tsonga of France reacts during the match against Rafael Nadal from Spain in the quarter-finals at the ABN Amro tennis tournament at AHOY - Friday February 13, 09:19 PM in Rotterdam, The Netherlands

Nadal topples Tsonga to reach Rotterdam semis- Summary
www.earthtimes.org
Rotterdam, Netherlands - Top seed Rafael Nadal reached his first semi-final at the ABN-AMRO World Tennis on Friday as Jo- Wilfried Tsonga set up match point with a double fault after serving 26 aces. Nadal, who has gone the distance in all three of his matches, earned a 6-4, 6-7 (5-7), 6-4 victory, taking just under three hours. "This was definitely my best match of the week," said the Spaniard, who came here after his Australian Open title with just three days off. "Tsonga was extremely tough. This was a very important win for me."Nadal grabbed a 2-0 lead in the third set but lost it a game later. Tsonga's serving error in the tenth game, which set up the Nadal match point, finally made the winning difference for the Spanish world number one.


Read the full article
Several articles about Rafa news.google.com


See you at the match!
~~~~~~~~~~~~~~~~~~~~~~~~
Call President Obama at 202-456-1111
or 1-800-GENOCIDE
and pressure him to immediately take steps
to ensure the protection of civilians in Darfur!
An example of your phone call text can be found below.
It is encouraged that you make it personally your message.
*
~~~~~~~~~~~~~~~~~~~~~~~~
And

call the USA Secretary of State
The USA State Department public comment line works 24 hours a day and 7 days a week. Please, call as soon as possible.
Call the State Department's public comment line 24/7 at 202-647-6575
The White House (9 AM - 5 PM EST weekdays) at 202-456-1111
or 1-800-GENOCIDE with a similar message as the one below.

If you have called already, please call again:
* I'm calling to ask President Obama, Secretary of State Clinton and Ambassador Rice to protect innocent civilians in Darfur in the wake of Bashir's arrest warrant. Please issue immediate warnings to Bashir and the government of Sudan specifying consequences of attacks on civilians. Please also prepare an emergency response plan to address further violence and appoint a full-time senior level envoy. Lastly, please stand firm in support of the ICC indictment and veto any delay in the prosecution of Bashir.
Find your elected politicians contact information at this link:

Labels: ABN AMRO, France, Gael Monfils, Grigor Dimitrov, ilovemylife, Interview, Italy, Jo-Wilfried Tsonga, Rafael Nadal Pictures, Rotterdam, Sandra Hammel, Simone Bolelli, Spain, Tennis, Vamos Rafa