RAFAEL NADAL RECOVERING WHILE SUPPORTING SPANISH TENNIS VICTORIOUS TEAM
Rafael Nadal in Mauritius
Rafael Nadal on a fishing excursion off the north part of Mauritius, near Gunners Coin.


Source: www.mauritiusupdate.com


After a hectic year, the No 1 tennis player, Rafael Nadal, spent a whole week in Mauritius. He was invited by the MTPA and stayed at the Royal Palm, together with some friends. During his stay he could enjoy some of the best attractions on the island. .


Are you disappointed to miss the Davis Cup?
Rafael Nadal. To miss the Davis Cup and before that the Masters, is tough... Because I love to play for my country. And especially when it comes during my best year. Its very tough. But my body was too tired to play and I had some problems with my knee. So I needed to recover. I have to accept that.

A model ship (St Géran) was presented to Rafael Nadal by Vianna Murday of the MTPA as a souvenir. What did you like the most during your stay in Mauritius?
Every day, there has been a different thing and I liked everything. The first day I relaxed in the hotel and it was perfect. The second day, we took a catamaran to Ilot Gabriel, and again, it was perfect. I spent some time snorkeling and there was a good variety of fish. The third day, we had a helicopter trip which enabled us to have a good overview of the island. The mountains are nice and different from those in Mallorca.
In the afternoon, I went fishing near Coin de Mire, off the north coast, with a nice guy. The people are very nice with us, here.
On the next day, we went to Ile aux Cerfs and Grande Rivière Sud Est. It was nice, the weather was perfect and we had lunch on Ilot Mangénie. I played golf on a beautiful and very difficult golf course.
The Mauritian food is very nice and the sea food is excellent...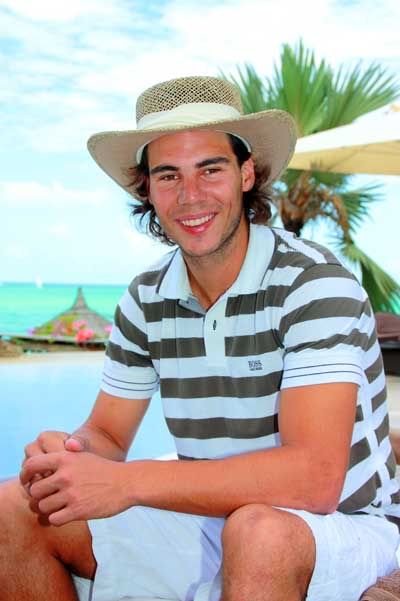 How do you compare Mauritius with Mallorca?

It is difficult to compare. I like calm, quiet places. I think both places are good. There are mountains here and in Mallorca too. I would say that Mauritius is more pristine...

What are the other attractions you would have liked to do in Mauritius?
May be walk with lions... But definitely more fishing, more golf too. And complete the 18 hole of Ile aux Cerfs. I did only the 9-hole circuit.
Unfortunately, I have not been staying long enough. May be I can come back...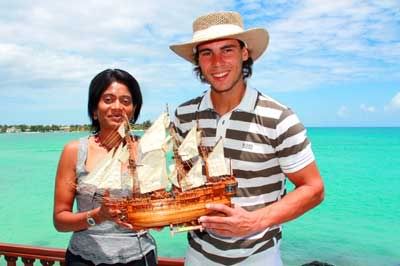 Source: www.mauritiusupdate.com
~~~~~~~~~~~~~~~~~~~~~~~~~~~~~

Spanish duo hail Verdasco
Praise all around for Spanish man of the moment
Source: www.skysports.com

By Elliot Ball Last updated: 23rd November 2008
Emilio Sanchez Vicario and Fernando Verdasco

Sanchez Vicario: Praise for Verdasco

Davis Cup captain Emilio Sanchez Vicario and world number one Rafael Nadal have paid tribute Spanish hero Fernando Verdasco.

Verdasco, who was brought in to replace Spain's off-form David Ferrer, braved to a 6-3 6-7 4-6 6-3 6-1 victory to hand Argentina their third defeat in three final appearances and their first home loss for 10 years.

Verdasco had been overlooked for Friday's opening singles but earned himself a chance by winning Saturday's doubles alongside Feliciano Lopez.

And his skipper was keen to praise his 25-year-old star after the left-hander came through the epic three hour and 56 minute contest to hand Spain their third Davis Cup crown.

"It was an incredible match - all the guys were so nervous," Sanchez Vicario said.

"Fernando was just the better player - he's very strong."

And Spanish sensation Nadal, who was unable to play due the knee injury he sustained in Paris earlier this month, was full of praise for his compatriots.

"I couldn't be happier, it's an unforgettable moment and they have made history," Nadal told Spanish television.

"Fernando was brilliant - absolutely amazing from the fourth set. Emilio (Sanchez Vicario) has formed a tremendous group with a fabulous atmosphere at its heart."

And man of the moment Verdasco was nearly speechless after he clinched the tie, but when he did speak the 16th ranked player insisted it was the greatest day of his life.

"It's a dream. I've wanted this chance since I was a boy, few get it and even fewer take it," he said.

"In the Davis Cup, you have to fight to the death and you always have to keep your hope of winning. This mental strength helped me win the match."

Source: www.skysports.com

Labels: 2008, Argentina, Congratulations, Davis Cup, ilovemylife, Lopez, Mauritius, Rafael Nadal, Sandra Hammel, Spain, Tennis, Verdasco