NADAL, FERRER, LOPEZ, VERDASCO WIN DAVIS CUP TOURNAMENT ~ SPAIN V. GERMANY
Rafael Nadal, David Ferrer, Feliciano Lopez and Fernando Verdasco play for Spain in Bremen, Germany for the Davis Cup tennis tournament. And now move on...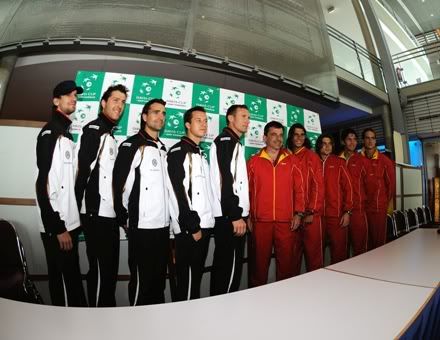 Spain into semis after 3-0 win over Germany
Source: tennis


BREMEN, Germany (AP) - Spain advanced to the semifinals of the Davis Cup after saving two match points to win a five-set doubles match Saturday and establish an unassailable 3-0 lead over Germany.
Feliciano Lopez and Fernando Verdasco beat Philipp Kohlschreiber and Philipp Petzschner 6-7, (3), 7-6 (1), 6-4, 2-6, 12-10 in 4 hours, 45 minutes on Rebound Ace at AWD Dome Indoor Arena.
The Spaniards saved match points at 6-6 and 8-8 in the final set, and clinched the best-of-five series when Kohlschreiber hit the ball long in front of 5,000 home fans.
Spain led 2-0 as second-ranked Rafael Nadal and No. 5 David Ferrer each won Friday's singles. Both players may now skip Sunday's meaningless reverse singles.
Kohlschreiber was taken to a hospital for a checkup late Friday after complaining of not feeling well following his four-set loss to Ferrer.
"It's enough to make you sick," Kohlschreiber said. "I was on the court three hours yesterday, 4:45 today and didn't win. We lost that last set rather unluckily."
Spain, the 2004 champions, now face either the United States or France in September's semifinals.
Germany made only four of 22 breakpoint chances as it failed to erase an 0-2 deficit for the first time since losing to the Czech Republic in 1960.
During the final set, Kohlschreiber and Petzschner held serve easily and had several chances to break the Spaniards until they themselves dropped the final service game.
Germany was without the injured Tommy Haas (22-8) and Alexander Waske (7-1 in doubles).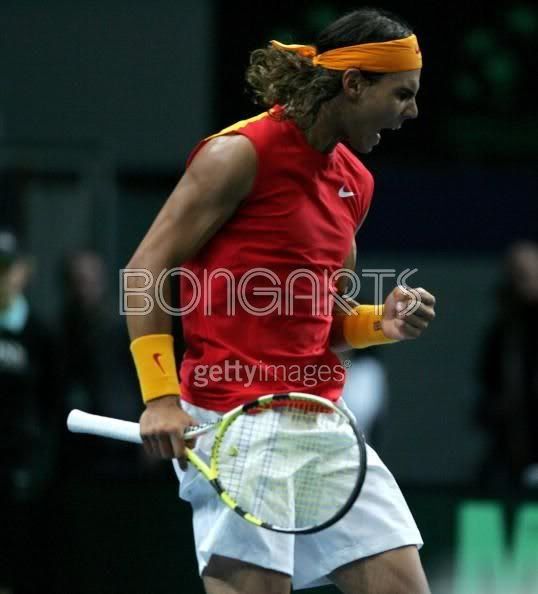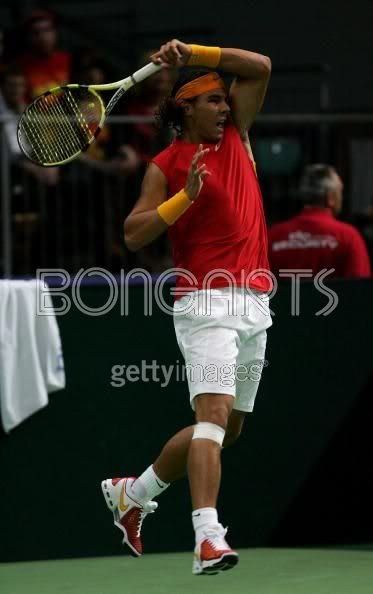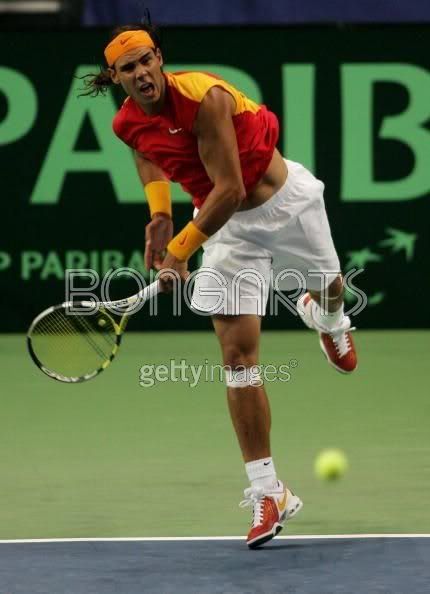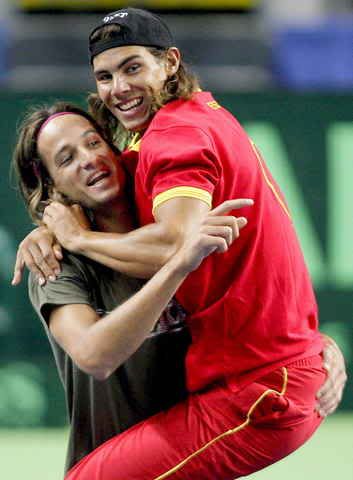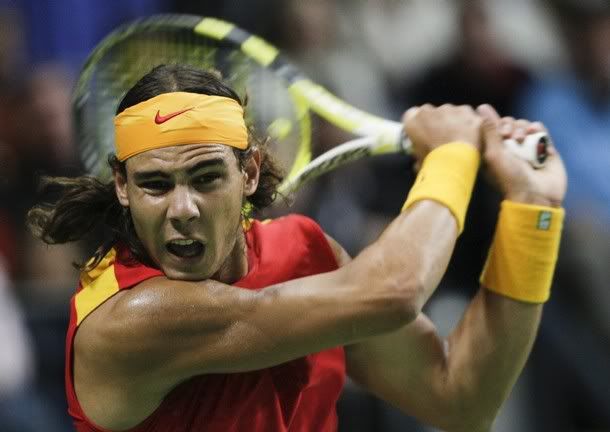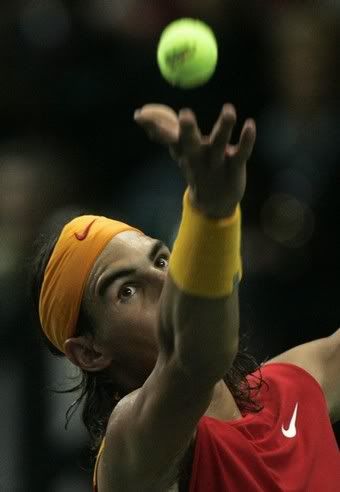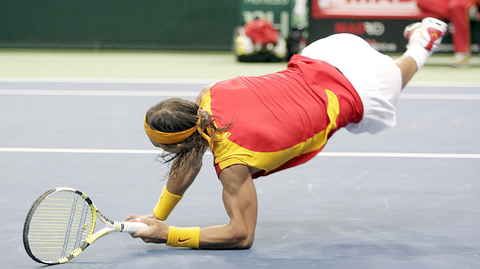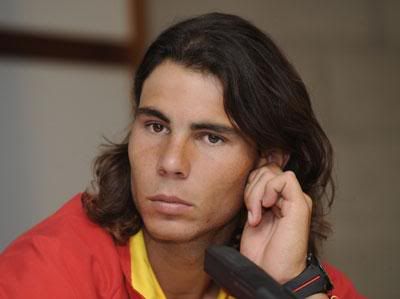 .......................................................................
.......................................................................
.......................................................................
.......................................................................
Rafael Nadal v Kiefer in Bremen, Germany ~ Davis Cup April 11, 2008 ~ 3rd Set
From:
TschagerVB




Bryan twins lose in Davis Cup doubles, leaving US up 2-1 on France



4/12/2008

WINSTON-SALEM, N.C. (AP) -Bob and Mike Bryan were struggling to describe how the so-called ``automatic point'' for the United States Davis Cup team had failed to close out France on Saturday when captain Patrick McEnroe chimed in.

``These guys are human. You see them? They're human,'' McEnroe said. ``We count on them. Everybody always says, 'The doubles are a lock.' Well, they played a great team and they played well.''

The joking and loose French pair of Michael Llodra and Arnaud Clement ended the Bryans' doubles dominance, rallying past the top-ranked twins 6-7 (7), 7-5, 6-3, 6-4 to cut the Americans' lead to 2-1 in the best-of-five competition.

The Bryans had been 14-1 in Davis Cup play and 5-0 in clinching situations, but they couldn't secure a spot for the U.S. in the semifinals against Spain. Llodra and Clement, who said they were discussing wine between points, raised their record to 4-2 against the Bryans and kept the French alive for Sunday's reverse singles.

``We knew before the match when the Bryans lead they are very big on the court,'' Llodra said. ``We knew we had to stay positive and have a good attitude. That's the key when you are down in the score. In the middle of the fourth set, I saw the Bryans were a little bit shorter.''

In the other Davis Cup quarterfinals, Spain swept Germany 3-0; Argentina leads Sweden 2-1; and Russia is in front of the Czech Republic 2-1.

A day after Andy Roddick and James Blake put the U.S. in command with singles wins, the Bryans wasted a chance to pass John McEnroe and Peter Fleming as the winningest U.S. Davis Cup doubles team.

``We wanted to shut it down so we could have a good time tonight,'' Mike Bryan said.

Instead the pressure shifts to Roddick, who will play the first match Sunday against Paul-Henri Mathieu or perhaps Richard Gasquet if he's recovered from a blister on his right hand and a sore knee. Blake plays the final match, tentatively against Llodra.

French captain Guy Forget was seen talking to Gasquet after the doubles match ended. Forget hinted his lineup will depend on whether Gasquet thinks he's healthy enough to play.

``I feel it should be an honor to play for your country. I feel it's a privilege when somebody asks you if you want to play,'' Forget said. ``Richard felt like he couldn't play at a decent level (Friday). Now the question is how he really feels. But I'm not begging him. If he doesn't want to play he won't go out.''

Similar to their win over the Bryans in last year's Wimbledon final, Llodra and Clement were the aggressors on the quick indoor hard court, coming to the net often in an entertaining match that included big serves, multiple volleys and quick reflexes.

Clement's forehand winner down the line broke Mike Bryan in the seventh game of the fourth set. Two games later, Llodra served it out on a day when the French never lost serve.

``They had chances, but you you've got to give the French credit,'' McEnroe said. ``They played unbelievable tennis in big points. It wasn't like the guys choked and missed easy points.''

Instead, Llodra, who lost to Roddick in straight sets on Friday, continued to frustrate - if not irritate - the Bryans.

After winning the Wimbledon title, Llodra and Clement whipped off their shirts and tossed them into the crowd. It was a toned-down version from the 2004 Australian Open final, when Llodra stripped to his underwear after he and Fabrice Santoro beat the Bryans.

Llodra kept his shirt on in the post-match celebration, but did hurdle the net after France evened the doubles match at a set apiece. He then told Clement that, win or lose, they were going to drink expensive Chateau Margaux wine after the match.

``He's crazy, this guy,'' Clement said.

The French team was in trouble early, after the Bryans staved off a set point in the first-set tiebreaker before closing it out, with Clement's missed volley the difference.

Clement made up for his mistake in the second set. His return down the line set up a set point, and he finished off the break of Mike Bryan with a backhand volley on the next point.

The French broke Bob Bryan early in the third set, racing to a 3-0 lead. They fought off two break points at 4-2, then served out the set, silencing the crowd.



Now the U.S. will turn to Roddick to close it out Sunday against an undetermined opponent.



``We're not really too concerned, to be honest,'' McEnroe said. ``If Andy comes out and plays well, plays his game, I think we're in pretty good shape.''



Elsewhere in Davis Cup doubles:





In Bremen, Germany, the Spanish team of Feliciano Lopez and Fernando Verdasco defeated Philipp Kohlschreiber and Philipp Petzschner 6-7, (3), 7-6 (1), 6-4, 2-6, 12-10. The clinching match lasted 4 hours, 45 minutes. Spain won the Davis Cup in 2004.



In Buenos Aires, Argentina, the Argentines went up 2-1 when David Nalbandian and Guillermo Canas beat Jonas Bjorkman and Robert Lindstedt 7-5, 6-4, 6-4. Argentina has won 11 straight Davis Cup series at home since 1998. The winner plays Russia or the Czech Republic in the semifinals.

In Moscow, Nikolay Davydenko and Igor Andreev rallied past Radek Stepanek and Pavel Vizner 3-6, 6-3, 7-5, 6-4 to put Russia ahead of the Czechs 2-1. Russia has not lost at home since the 1995 final, when Pete Sampras won three matches to lead the U.S. to victory. The Russians have since won 15 straight.


Source:
The Tennis Channel
Homeboy Without Attitude
Rafa in Manacor, Mallorca
Below is just a part of the article. To read all of it, click the title above.
For Rafael Nadal, living with his family in his home town of Manacor keeps him focused and down to earth
Photo: Getty Images
Locals ensure that Rafael Nadal keeps his feet firmly on the clay, writes Mark Hodgkinson
Alongside all the names of the club hackers on the court booking sheet was that of Rafael Nadal, carefully written in blue ink in the small space provided.
Nadal simply would not have been allowed to just turn up at his local courts at Club Tenis Manacor and then blithely walk on to el campo numero uno to practise his felt-scorching strokes for an hour or two. No, senor.
Nadal, the boy from the Balearics, would not have it any other way.
He would not want any special treatment at his home town club in Majorca. Watching him interact with the locals, it was obvious that he was no diva in clay-smeared kit. Nadal could hardly have been more humble and unassuming - a 19-year-old Majorcan with an extraordinary talent and a blue ballpoint pen.
He had a crowd of five for one training session to prepare for his title defence at the French Open, which started in Paris yesterday.
And a couple of those spectators were elderly men sitting in chairs that had been pushed up against the wall of the clubhouse in an attempt to escape the relentless, skin-frazzling afternoon sun.
The sense was that the old men would have stayed there in the shade and watched anyone on el campo numero uno. It just happened that, on that particular afternoon, it was Nadal out there.
As the practice continued, with Nadal smacking the ball with all the strength those pumped-up biceps of his could manage, a couple of teenage girls walked into the club, took one look at him, and quickly walked on to find their own court.
...
Nadal has lived in Manacor all his life. The town is the second biggest on the island after the capital, Palma, with 30,000 inhabitants, but it is also 10 minutes from the coast, and even further removed from the "sex, sand and sangria" image of Majorca. He still lives at the family home, a smart building almost within touching distance of the 19th-century, neo-gothic church dominating the Manacor skyline.
The locals said Nadal shares his home with his grandparents, his parents, his sister and uncle Toni and his family. Talk in the town also suggested that Nadal, already a millionaire several times over, has just the one room to himself.
The close quarters are for a reason. The family wants to look after him, and he benefits from the support and stability of staying at home between tournaments...
Labels: ATP, Bremen, Clay Season, David Ferrer, Davis Cup, Doubles, Espanol, Feliciano Lopez, Fernando Verdasco, Fun, Germany, Pictures, Rafael Nadal, Sandra Hammel, Spain v Germany, Tennis, Vamos Rafa